My work is fueled by a love for the human mark. Since our ancestors smeared pigment on cave walls in the shape of wildlife millennia ago, humanity's legacy of asserting our existence is something built into being human. My work continues the tradition by keeping the stroke of paint visible. 
Painting is also a transformation; the cave wall, the blank page, and the white canvas becomes a spacious place or a living, breathing being. I'm fascinated with this magical act. The unfinished quality to my work is about keeping this doorway between both worlds partly open. 
Nature and wildlife are primary subjects in part due to the diverse metaphorical language they afford in communicating ideas. Mainly though, I portray animals because I feel a deep kinship with them and want foster this sense as much as possible. I believe in being physically and spiritually connected to nature and that we must be better stewards for planet Earth. 
My father,
Dr James Doyle
 was a physician and a pioneer of Chinese medicine in New England. He specialized in acupuncture and homeopathy, caring attentively for his patients over the span of fifty years. Because of him the idea of energy flowing through our bodies has been in my consciousness since childhood. Depicting energy has been an ongoing theme of exploration, as well as consciousness, nature, and new paradigms that expand my enchantment with the true vastness of life.
Boston∙Providence∙Rome∙Los Angeles∙New York City∙Auckland∙Hong Kong
Exhibitors
Seattle: Roq La Rue Gallery
Denver, CO: Helikon Gallery
Allentown, PA: IlluXCon (now IX)
Hong Kong: RE Gallery, Novalis Gallery
New York City: The Society of Illustrators, Skylight Gallery, Bottleneck Gallery, The Waterfront Museum, Hive 55, MDH Fine Arts, White Rabbit, West Side Gallery, Haven Gallery (upstate)
London, England: WOWxWOW Gallery, The Little Picture Company
Cologne, Germany: Kahlshof
Park City, Utah: J Go Gallery
Los Angeles: Society of Illustrators, Gallery 1988, The Hive Gallery, Temple of Visions Gallery
Rome: Piazza Cenci
Kittery, ME: Drift Gallery
San Francisco, CA: Intersection For the Arts
Missoula, MT: The Brink Gallery
Online: Colossal, Saatchi, Every Day Original, Artist a Day, The Boston Globe, Hi-Fructose Magazine, Illustration Age, The Untapped Source, Behance Network
Clients
Tor Books∙Scholastic Books∙Simon & Schuster Publishing∙Lerner Books∙Solaris Books∙ Fantasy Flight Games∙Saga Press∙Penguin Random House (Spain)∙The Atlantic Magazine∙Charlesbridge Publishing∙Cricket Magazine∙iHeart Radio∙Grim & Mild∙Sintiyapera Publishing∙Boxaroo Escape Rooms∙Biles Hendry Inc.∙Jones Knowles & Ritchie∙Square Enix Games∙Creative Action Network∙Atheneum Books for Young Readers∙The Legal Artist∙The Thrilling Adventure Hour∙MoveOn.org∙Small Beer Press∙Mexi Kai∙F(r)iction Magazine∙Intuary∙The Morning News∙Binary Acoustics∙The March of Dimes∙Virtual Theatre Project∙ The Weekly Dig∙The Stranger Newspaper∙Top Brass Distilleries∙Brookline Booksmith∙The Colony Theatre∙Firefly Theater & Films∙Indika Entertainment Advertising∙Nature & Health Magazine∙The Boston Phoenix∙Fearless Media∙Company One Theatre∙Canteen Magazine∙Compaq Computers∙Reader's Digest
Education


BFA
Rhode Island School of Design, Providence & European Honors Program, Rome
MFA
School of Visual Arts, NYC
Teacher
RISD Pre-College Illustration
The New York Art Studio
Noteworthy & Awards
The Society of Illustrators Annual Exhibition, Infected By Art Annual, Spectrum Fantastic Art Annual, Board Member of The Rhode Island School of Design's New York City Alumni Society, Society of Illustrators West, LMCC Summer Arts Intensive 2010, Creative Quarterly, RSVP, School of Visual Arts, 3x3 Illustration Magazine, Adobe Design Achievement
Interviews
INPRNT
, 
Colossal: 2012
,
2015
,
and 2019
, 
Impakter
, 
Helikon Gallery
, 
Ampersand Literary
,
Lit Pick
,
Other Cool Birds
, 
Nightmare Magazine
,
Lucky Compiler
,
Inked Gaming

"The myth is the public dream and the dream is the private myth."
-Joseph Campbell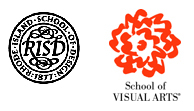 "Artist Adam S Doyle creates beautiful gestural paintings of birds seemingly incomplete brushstrokes form the feathers and other details of the animal. In some strange way it reminds me of the story of the Renaissance painter Giotto who is rumored to have been able to draw a perfect circle without the aid of a compass, as if Doyle just picks up a dripping paint brush and in a few seconds paints a perfect bird. In reality his work demonstrates a profound control of the paintbrush and careful understanding of the mediums he works with."
-Christopher Jobson, editor of 
Colossal